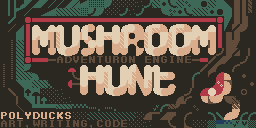 Mushroom Hunt
This is my entry for the Adventuron Cave Jam.
The obvious goal of the game is to find Mushrooms for your Grandmother. The less obvious goal is to explore, discover and perhaps uncover most of the (frankly too many) endings and eastereggs.

EXAMINE(X) any nouns which catch your eye. This was a 25 day jam, so I had a lot of time to add in flavour text for pretty much every noun.

The graphics are textmode made using REXpaint with a custom font and the palette Japanese Woodblock. The graphics purposefully have not been sharpened with CSS pixel rounding to emulate the smoothing of older screens without going full on filter.

Please enjoy this labour of love :) It's been exhausting.